Friday, February 26, 2010
Nucleotide diversity - what two new African genomes mean
As I've said before there really is no such thing as the human genome. There are millions of differences between individual genomes and we are each born with about 150 new muations. In an age in which we can sequence assemble and analyse entire genomes in two years understanding the breadth of human genetic diversity is at last an achievable goal and if you want to understand human diversity then you need to look to where we came from. Trace any family tree back far enough and you will end up in Africa and, in fact, most of human history was played out entirely in that continent. Modern humans arose in Africa about 250 000 years ago and only spread out to Europe and the rest of the world in the last 60 000 years, displacing Homo erectus in the process. The migrants that founded the modern European, Asian and American populations would have carried with them only fraction of humanity's genetic diversity when they left Africa but untill recently genomics has focused on those populations. Until last week the two African genome sequences available to researchers were both from Yoruban volunteers to the hapmap project. Although those sequences are very useful they represent only one tip in the deeply branching tree of humanity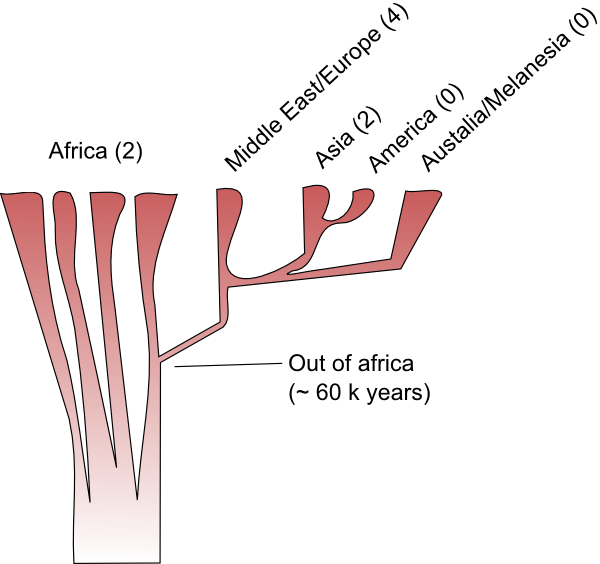 Summary of human genetic diversity redrawn from Campbell and Tishkoff (2008) doi:10.1146/annurev.genom.9.081307.164258 . Numbers in brackets are the number of complete genome sequences from each region available before last week.
To broaden our understanding of African genomes Schuster et al looked to the South of the continent and at two people in particular. !Gubi is a Khoisan (or bushman), a member of a one of the earliest diverging groups within the humanity while Desmond Tutu hails for various Bantu peoples. The results taken from theses genomes along with lower density sequencing and genotyping of other Bantu and Khoisan volunteers reinforces just how much genetic diversity exists within Afirca. By using a method called principle component analysis to reduce a the correlations among millions of single base pair differences (single nucleotide polymorphisms or SNPs) to a smaller set of uncorrelated vectors you can see patterns in the genetic diversity of groups. Applying this method to West African (Bantu and Yoruba), Khoisan and European populations reveals the comparative genetic homogeneity within Europeans and that the difference between the two African groups is comparable to that between either of them an Europeans.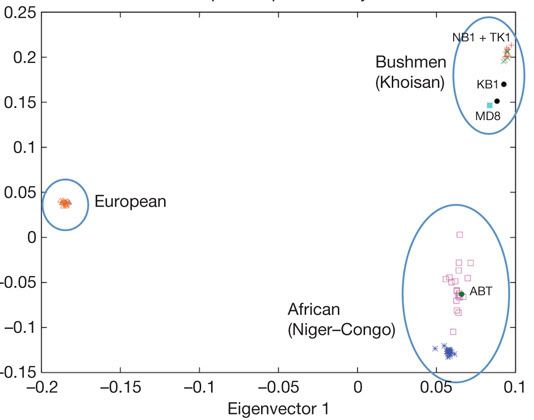 All in all Schuster
et al
found 1.3 million SNPs that hadn't been previously identified. Those new polymorphisms will be a boon to researchers searching for a genetic basis to, for instance, HIV restiance in Africa or African-American's increased risk to type 2 diabetes. Just as interesting as the new SNPs is the discovery of others that have already been associated with diseases even though Desmond Tutu and !Gubi are healthy 80 year olds. A couple of scientists quoted in dispatches seem to think these genomes will act as quality control, allowing researchers to 'clean up' polymorphisms incorrectly associated with dieseases in other studies but it seems at least as likely that something more complex is going on. The selective, or health, value of a gene can only be measured against the environment it is expressed in and the rest of the genome is absolutely part of that environment. It's entirely possible for a gene to be associated with
Wolman disease
amongst Europeans but to be of no consequence to busman thanks to the different genetic background against which it expressed.
Uncovering the genetic basis of these diseases and untangling the complex genetic interactions that underly populations' risk to disease still lies in the future but this study also tells us something about our past. Most Khoisan are nomadic hunter-gathers and their ancestors have been for thousands of years, by comparing their sequences to those from agricultural societies you can see the evolutionary impacts of that change in lifestyle. Some malaria resistance genes, scars from humanities long battle with that disease that was amplified when agriculture lead to increased population density, are absent from the Khoisan sequences as are genes for digesting lactose as adults. Though those primitive characters have been retained by the Khoisan they are no more an 'ancient' or primitive people than the tuatara is a 'living fossil'. In fact, there are a large number of bases in which European sequences are identical to the corresponding chimpanzee sequence while the Khoisan sequences diverge - lots of those changes will have been fixed at random but the fact some of them are in genes that are likely target of selection (especially perception of taste and smells and immune responses) suggests they may also have adaptive consequences.
The paper is available to under a creative commons license here and if you feel suitably qualified you can play with their data which has been released on the Galaxy framework.
---
Schuster SC, Miller W, Ratan A, Tomsho LP, Giardine B, Kasson LR, Harris RS, Petersen DC, Zhao F, Qi J, Alkan C, Kidd JM, Sun Y, Drautz DI, Bouffard P, Muzny DM, Reid JG, Nazareth LV, Wang Q, Burhans R, Riemer C, Wittekindt NE, Moorjani P, Tindall EA, Danko CG, Teo WS, Buboltz AM, Zhang Z, Ma Q, Oosthuysen A, Steenkamp AW, Oostuisen H, Venter P, Gajewski J, Zhang Y, Pugh BF, Makova KD, Nekrutenko A, Mardis ER, Patterson N, Pringle TH, Chiaromonte F, Mullikin JC, Eichler EE, Hardison RC, Gibbs RA, Harkins TT, & Hayes VM (2010). Complete Khoisan and Bantu genomes from southern Africa.

Nature, 463

(7283), 943-7 PMID: 20164927
Labels: evolution, genetics, genomics, Human evolution, human genome, research blogging, sci-blogs, science
182 Comments:
[ ... ] link is being shared on Twitter right now. @zenx, an influential author, said RT @1ndus: Xtreme [ ... ]
Good put up with some useful information! Can't say I totally agree with all that you've instructed here, but there are an excellent amount of vital information you will have highlighted that may be very useful on canine coaching and related topics. Please proceed providing more suggestions on this subject and associated topics, as there are a lot of out there like me who are attempting to get to know the ups and downs.